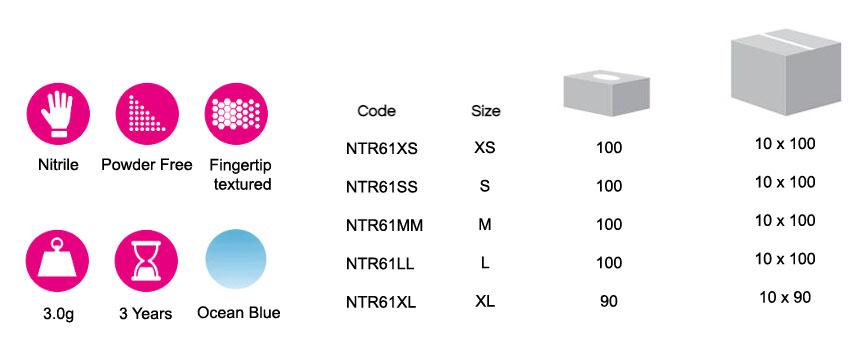 Product characteristics
Lightweight gloves that meet American standards. Experience absolute tactile sensitivity at the tips of your fingers. This is a glove that like your second skin. Suitable for delicate procedures that demand great precision. Popular among food industries, aged care and examination procedures.
– 100% Powder and Latex Free
– Textured Finger Tips For Positive Gripping
– Chemical Resistant
– Fingertip textured
– Powder Free
– Not made with natural rubber latex
– Chemotherapy drugs tested
– Lab chemical tested
– Ambidextrous
– Standard Cuff
– Ocean Blue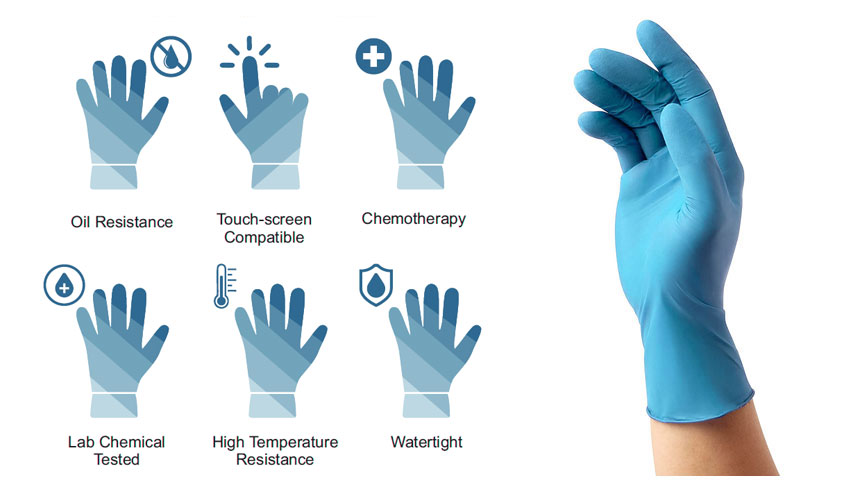 Guidelines for using
After use, wearer should check the glove and remove any contamination from the outer surface before removing the glove from the hand. Alternatively, carefully peel the glove off the hand so that the contaminated glove outer does not touch your skin.
SPECIFICATIONS:
| REORDER CODE | SIZE |
| --- | --- |
| NTR61XS | X-Small |
| NTR61SS | Small |
| NTR61MM | Medium |
| NTR61LL | Large |
| NTR61XL | X-Large |
MANUFACTURING ACCREDITATIONS

Accreditations

ISO 9001




ISO 13485




EN ISO 13485
CHEMOTHERAPY DRUGS AND CONCENTRATION




(TESTED FOR RESISTANCE TO PERMEATION BY CHEMOTHERAPY DRUGS AS PER ASTM D6978-05, TEST REPORT PN 128134A)

MINIMUM BREAKTHROUGH DETECTION TIME (MINUTES)

Carmustine (BCNU), 3.3mg/ml (3,300ppm)

7.3

Cisplatin, 1.0mg/ml (1,000ppm)

>240

Cyclophosphamide (Cytoxan), 20.0mg/ml (20,000ppm)

>240

Dacarbazine (DTIC), 10.0mg/ml (10,000ppm)

>240

Doxorubicin Hydrochloride, 2.0mg/ml (2,000ppm)

>240

Etoposide (Toposar), 20.0mg/ml (20,000ppm)

>240

Fluorouracil, 50.0mg/ml (50,000ppm)

>240

Methotrexate, 25.0mg/ml (25,000ppm)

>240

Mitomycin C, 0.5mg/ml (500ppm)

>240

Paclitaxel (Taxol), 6.0mg/ml (6,000ppm)

>240

Thiotepa, 10.0mg/ml (10,000ppm)

20.6

Vincristine Sulfate, 1.0mg/ml (1,000ppm)

>240

WARNING: Do not use with Carmustine and Thiothepa

Gloves used for protection against chemotherapy drug exposure should be selected specifically for the type of chemicals being used. Due to the variety and concentration of chemotherapy drugs used in treatments, the resistance table shown does neither warrant nor imply the safe use of the gloves against chemotherapy drugs resistance in every case. The safe use of gloves in chemotherapy treatment is solely the decision of clinicians authorised to make such decision.