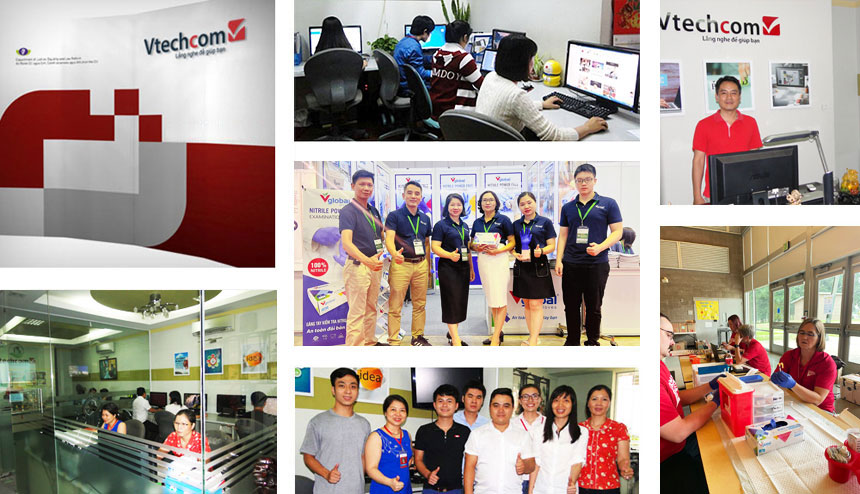 Vtechcom Co., Ltd is Vietnam's leading Original Equipment Manufacturer (OEM) of Examination gloves with the brand name VGLOBAL, our partner is a manufactured at Malaysia.
Our main products are: Nitrile Gloves and Latex Gloves. We has strong technical force, and can fulfill products design and development. Our products are widely used in fields of medical examination, dentistry, first-aid, healthcare, gardening, cleaning, etc. and licensed medical circulation in the territory of Vietnam.
We stick to delivering our high quality product and best service to our base of customers. We believe that under the globalization trend, the most important thing for running business internationally is to be considerate, modest, creative, steadfast, passionate and industrious.
Mission
Always take humanity as first priority,
keep providing humanized & friendly personal
protective products (PPE) and services to the world
To take care of people and the environment would always be our responsibility. Vglobal was born to take care of your health and the community with gloves for safe and quality. Our mission is to "take humanity as our priority", and we carry out not only by providing excellent protection solutions but also applying the value to our services & brand, only to create unlimited possibilities.
Vision
Devoting ourselves toward the people and thesociety, dedicated to social giving back, caring for localized protection, as well as taking care of the earth as the orientation to create sustainable development.
We are honored to serve better the needs of our customers.